Vince was one of the original two Crash Dummies, who appeared on television ads in the mid-late 1980s. He was made into an action figure in 1991, during the 1st generation release of the series by Tyco. Vince was replaced half-way through 1991 with Slick, when the Department of Transportation ended their contract with Tyco.
Original background story
Edit
"Vince has been a Crash Dummy longer than anybody, and has the scrapes and scuffs to prove it. he gripes about the job but don't let him fool you - if you need a car slammed into a concrete wall [sic] he'll volunteer to drive!
"I don't wear my safety belt in crash tests," says Vince. "But I'm paid to be a dummy. What's your excuse?"
Action figure features
Edit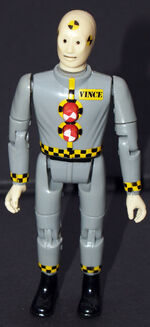 Vince was only released in one form by Tyco before they had to discontinue him. He was a standard, two-button trigger figure in a gray jumpsuit. Like the rest of the 1st and 2nd generation figures, Vince did not come with any accessories.